This is a fun cake to make for Halloween and is a good alternative for using up all that pumpkin. It is baked in a heart shaped baking tray so isn't too hard to make and all you have to do is cut the bottom off and use it for a stalk to make it pumpkin shaped.
Pumpkin cake
Author:
Prep time:
Cook time:
Total time:
A fun pumpkin cake for Halloween made with pumpkin puree.
Ingredients
220g (8 oz) plain flour
300g (10oz) brown soft sugar
1 tsp bicarbonate of soda
1 1/2 tsp of pumpkin pie spice mix
250g (9oz) of pumpkin puree
110g (4oz) vegetable oil
80g (3 oz) coconut milk
25g (1 oz) desiccated coconut
60g (20oz) of roasted walnuts (make your own by roasting for 8-9 mins in a medium oven)
Instructions
Mix the flour, sugar, bicarb, and spices together. If you don't have pumpkin spices you can use cinnamon and nutmeg.
Stir in the pumpkin puree, vegetable oil and coconut milk.
Fold in the walnuts and desiccated coconut.
Bake for 1 hour at 180 C Gas Mark 4.
Pumpkin puree is very easy to make. Just cube one medium pumpkin, boil for about 8-10 minutes in just enough water to cover the pumpkin. Drain thoroughly and blend until smooth. This is a great first food for a baby and then can be used in soups and stews. Last year we used it to make pumpkin pizzas.
This innovative Joseph Joseph cutting board really helped with chopping up the pumpkin – one of my least favourite  jobs. It folds up and you can pour the pumpkin without spilling anything. There are some really great pieces of cookware out there that make making so much easier.
I don't often bake cakes which don't use butter or eggs so the mixture seems really runny. However it makes an exceptionally moist cake.
Once the cake has cooled on a wire rack you can ice it, although it really doesn't need it. I made an icing for this cake using icing sugar, pumpkin puree, and desiccated coconut. It tasted great but I didn't quite get the consistency right. If I manage to perfect it I will add it to the recipe. I like the fact that you didn't need food colouring as the pumpkin gave it a bit of colour.
This is a bit more complicated recipe than I normally make and as I had Rose helping me I wanted to keep her busy so I gave her some cupcakes to make at the same time. I was quite impressed with how well she put the mix into the cases as I didn't help her at all.
 The Great Blogger Bake Off hosted by The Crazy Kitchen and Mummy Mishaps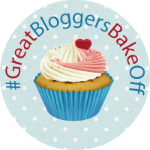 For more pumpkin activities and recipes see my round up of 20+ Pumpkin ACtivities.
Look here for all our Halloween Activities for Kids.
If you like this idea then make sure you are following me on Pinterest. I have a board dedicated to fun Halloween and Autumn ideas. 
Pin for Later
Disclaimer: I was sent some of the cookware items featured in this post.