Without a doubt this is the most delicious looking thing I've created with the kids. It was inspired by one of my current favourite TV shows – The Great British Bake Off. I loved the pavlova week – mainly because the dishes looked so delicious and so incredibly difficult to make.
The only problem is all that cream and chcolate and sugar isn't very good for the ole' waistline. I wanted to make something a little healthier – completely healthy in fact. This Pavlova has 0 calories and 0 fat. It's true – honest guv'nor!
That's because this Pavlova is called Pavlova Surprise for a reason…..
Yes, you guessed it, it's made completely out of play dough. It's a bit disappointing really because I would like to eat it!
So here is my play dough Showstopper
Layers of chocolate and coffee meringue (chocolate and coffee play dough rolled flat and cut into a circle)
Whipped cream filling (play dough grated with a cheese grater and squashed in between the layers)
Chocolate whipped cream around the outside (made with a play  dough press.)
A strawberry ganache (made with red food colouring and strawberry essence)
I don't really know what the red balls are supposed to be – very round strawberries, fondant balls, I don't know, but they look very pretty.
To join in The Great british Play dough Bake Off go to Nurturestore: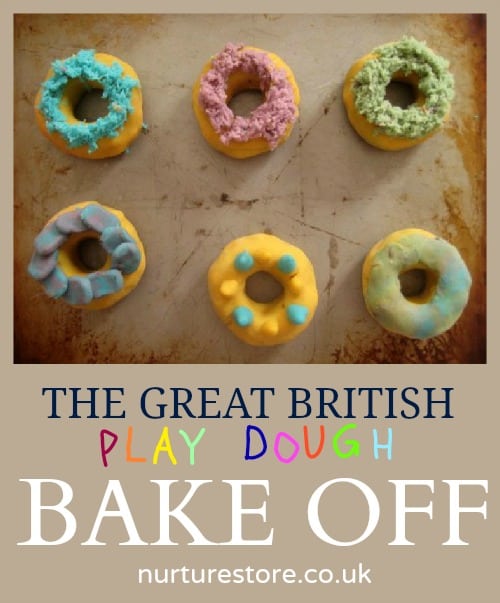 Check Out Our Other Craft Activities