There is only one possible pretend play activity to do during Pie Week and that is mud pies. I am ashamed to admit that this is the first time we've done this as a family. I know – call myself a kids activity blogger and we've never even made mud pies. I've thought about it lots over the Summer but never really fancied the mess. You have to be in the right mood!
Of course Mud Pies need a very special outdoor kitchen. I have wanted to make a cardboard box kitchen for ages too. The girls love their wooden kitchen, brought by Santa last Christmas, but there is no way I would let them take it outside, or sling a load of mud on it – not after all the effort Santa put into making it on Christmas Eve anyway – he definitely deserved his mince pie! So it seemed a great opportunity to combine the two things. I will show how we made the cardboard box kitchen in more detail in another post.
Here are the ingredients for mud pies.
Dirt
water
stones
fir comes (for decoration)
I gave the girls a selection of paper cups and bowls as well as foil pie trays and some of my old utensils which had seen better days.
Instead of dressing the girls in old clothes I made them a couple of aprons using a disposable party tablecloth cut into an apron shape. I made them really large so they covered all their clothes.
The girls soon got stuck in. They all liked the pastry brush the best. I put the water in the pretend sink and they used it to make the mud.
It didn't take long for things to get very messy.
Rose was much too busy to smile for the camera. She carried on for much longer than the others – and was still making mud pies over an hour later. Her pies were a bit soggy though as she used way too much water!
There were a couple of squabbles. If we do it again I am giving the girls their own table and a set of utensils each. I planned to give them all plastic spoons but couldn't find them.
The little chefs really need to work on keeping their areas tidy.
Charlotte's creative approach to pie making meant she took the plasticine off the buttons on the kitchen and used them to make cherries for her pie.
Molly put a lot of effort into her signature bake. Apparently it's a pizza pie. Almost looks tasty from this angle. Almost.
The finished pie, fresh out of the oven. This was when I asked Molly if it had a soggy bottom.
She was proud of her final bake. I'm not surprised it's a muddy masterpiece.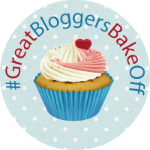 This is my post for The Great Blogger Bake Off hosted by The Crazy Kitchen and Mummy Mishaps
I am planning to make a pretend version of each of the dishes in the competition. The Great British Fake Off (Big thanks to Missie Lizzie from Me and My Shadow for the name!)
Look here for our sponge cakes made of sponge.
Here is Our fake bread made with salt dough.