Here are my Petits Fours made of Fimo. They are a really cute addition to our kitchen tole play area. The twins love having little picnics and tea parties with their toys. We had a few sets of wooden desserts but have lost most of them over the years so I thought this was the perfect opportunity to have some new additions.
Fimo is a really versatile modelling clay which can be baked in the oven to go hard. The only problem is it is quite expensive and you only get small amounts of each colour. It is the perfect material for making little things like petits fours.
First up were some macrons. These are easy to make with polymer clay. Bright pastel colours work perfectly in a circular sandwich.  A few dots with a craft knife to make the bubbles along the side add to the effect.
My favourite of all the petits fours we made is the mini doughnut. This is simply a flattened yellow sphere of fimo with the center cut out, topped with some pink fimo and then sprinkled with all the little bits left over from making the other pieces.
Finally we finished with some mini gateaux. A tiny Black Forest Gateaux topped with tiny morello cherries, a mint parcel shaped cake and a traditional cupcake.
So now we are ready for afternoon tea. the best bit of course is that these petits fours have zero calories.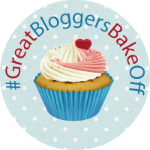 This is my post for The Great Blogger Bake Off hosted by The Crazy Kitchen and Mummy Mishaps
I am planning to make a pretend version of each of the dishes in the competition. The Great British Fake Off (Big thanks to Missie Lizzie from Me and My Shadow for the name!)
Look here for our sponge cakes made of sponge.
Here is Our fake bread made with salt dough.