Up until recently I have always bought play dough. This isn't really a very shocking confession – it's not like saying I give my children fruit shoots (actually I do this too – I know there is 9 tsp of sugar or something in them but often they are the only thing available) Bought play dough is cheap and colourful and easy. We always had homemade play dough growing up and I have my mum's best recipe somewhere which I will have to find so really there was no excuse not to at least try it.
The reasons I thought I'd give it a go with the twins is firstly that I've seen so many brilliant play dough recipes on other blogs which look so much more enticing than the bought stuff. You can add colours and glitter and different smells like chocolate and make it really  multi sensory. The other reason is that while I love baking with the children I find it impossible not to eat everything we make, two years after the twins were born I really have no excuse to still look pregnant with twins so I really need to get my baking fix some other way.
We have been slightly obsessed with fairies recently, I blame that cheeky minx Tinkerbell. So the obvious choice for homemade play dough was fairy colours. I used a lovely recipe from The Imagination Tree for white play dough using corn flour, which I thought would mix some beautiful pastel colours. While you're over at The Imagination Tree check out her post about the benefits of play dough. It's gorgeous, and I defy anyone not to want to give it a little try after looking at the ideas there
We split the dough into three, keeping one white and adding food colouring in colours pink and green to the other two. Into the mix we added lots of glitter in the right colours and it really gave it a lovely sparkle.
This play dough has lasted for ages in the fridge. On the first few days we made lots of fairy shapes using a fairy shaped biscuit cutter and decorated them using beads.
We also made lots of fairy cakes using the play dough and used cake cases and birthday candles to decorate.
The fun thing about play with children is that they never do quite what you expect. While Rose enjoyed sticking the candles in the cake and pretending to blow them out, Charlotte was more interested in the candle holders.
She spent ages making patterns in the play dough with it.
So am I going to go back to bought play dough? No way! Although I do need a bigger fridge!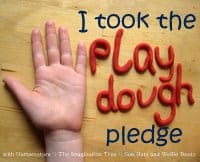 I'm linking to Tuesday Tots and Get Crafty