Inspired by The Great British Bake Off, we have made some cardboard patisseries this week. I have to say I'm not a fan of cream and puff pastry – it's about the only thing which is unhealthy that I don't like. Anyway, cardboard is much easier to use than spending hours folding and refolding puff pastry.
To make this we used:
cardboard
pom poms
foam scouring pads
paint
glue
We cut up the cardboard into squares with a square hole in the middles. Then filled with pom poms for the berries.
The rectangular patisseries are Mille Feuille where there are layers of puff pastry with crème pâtissière in the middle and dusted with sugar. Our toy version is layers of cardboard with foam in the middle and topped with a delicate drizzle of white paint. The foam is a scourer that you use for washing up. these are really cheap and great for crafting.
Rather than bake in the oven leave overnight to dry. They will then be ready for a teddy bears picnic. What an elegant addition to the picnic table.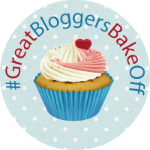 This is my post for The Great Blogger Bake Off hosted by The Crazy Kitchen and Mummy Mishaps
I am planning to make a pretend version of each of the dishes in the competition. The Great British Fake Off (Big thanks to Missie Lizzie from Me and My Shadow for the name!)
Look here for our sponge cakes made of sponge.
Here is Our fake bread made with salt dough.